Send A Free Fax Online
Looking to fax for free? Our comprehensive guide shows you how to send a fax online using free fax services and apps.
Send Fax Now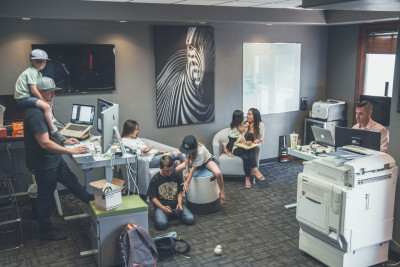 If you need to send a fax, don't worry. There are numerous apps available to send a free fax online that will allow you to send your cover sheet or other documents over the internet in a matter of minutes.
Do you recall faxes? These relics scanned documents and transferred them to a different machine, where they were magically printed. Fax machines, which were previously common household items, are still used by businesses to send and receive important legal documents, notes, and reports to this day. You'll sometimes be required to fax essential files to someone, such as when dealing with legally binding contracts or financial documents.
Although the digital revolution did not kill fax, it did cause it to evolve. After the advent of email, few people kept their fax machines; therefore, an easier way to transmit papers electronically was needed. This prompted the creation of a free online fax service that allows you to transmit a digital file to a physical fax machine or receive physical fax in an electronic format, with some even allowing you to convert email to faxes.
These free online fax apps have their unique set of features, interfaces, and upgrades. We'll focus on the ones that don't demand a monthly subscription. These are the best free fax online service apps to use if you need to send a fax but don't have access to a fax machine.
Sending a free fax online often comes with some watchouts. For example - there may be caps on the number of pages you can fax, the fax cover page may be an advertisement, and you aren't quite sure if the service is secure. Do you want to trust your important documents to a free online fax service that might just exist to steal your information? Our recommendation is to send a fax online with a privacy-focused and secure system with flat rate pricing. Try our online fax service now.
1) FaxZero
Send fax online free anywhere in the United States and Canada and a number of international destinations, with FaxZero. You can either upload a document or a PDF file or type in the text you want to fax. However, there is no fax receiving function.
The free service includes an advertisement on the cover page and is restricted to three pages each fax and five free faxes per day. Transmit fax of up to 25 pages with priority delivery and no advertising on the cover page for $2.09 if you need to send more than three pages. The Better Business Bureau has accredited this service. 
Strength
It's ideal for people who only need to send limited faxes.

Faxes are generated directly from Word documents.
Weakness
A limited number of freebies are available.

Include advertisements on the cover page.

There is no way to receive faxes.
Check out our list of alternatives to FaxZero.
2) GotFreeFax
GotFreeFax allows you to fax up to two documents every day, with a maximum of three pages per upload. This is an already generous plan that is enhanced by affordable subscription fees if you need to submit more papers. Although FaxZero (see below) has a tiny advantage in that it allows you to send five free faxes per day, GotFreeFax does not plaster its branding everywhere. We prefer GotFreeFax just for this reason, despite its lack of features.
When you access the site, you are immediately sent to the webpage where you can fax papers. It's not the most beautiful or well-organized, but it's refreshingly straightforward. You don't have to bother about clicking through links to get to the primary material, and there's no need to register. Just enter your name and email address, as well as the recipient's name and fax number, then press the "Send FREE Fax Now!" button.
Strength
There is no branding or advertising.

Affordable plans.
Weakness
Only a limited amount of free faxes are available.

No ability to receive faxes.
3) FaxBetter Free
FaxBetter Free provides you with a dedicated toll-free fax line and up to 50 pages per month. When you receive a fax, you'll be notified via an email. FaxBetter Free keeps up to 1,000 pages of faxes on its website for you to access online.
However, this free fax number cannot be used to transmit faxes, and the fax-to-email service and the OCR/searchable fax feature are only available for a 30-day trial. When you install the free version, you also consent to receive browser advertisements.
If you are expecting to receive numerous faxes or send faxes in multiple formats, the FaxBetter Premium accounts start at 5,95 dollars per month for up to 500 pages a month.
Strength
Excellent for people with steady yet low volume fax requirements.

Functions for OCR and document search.
Weakness
Weekly fax receipts to keep your number.

Can't send faxes.
4) HelloFax
HelloFax is an excellent service with a lot of features that are easy to use. Faxes can be sent and received via the web or email. You can sign documents without having to take prints because they have a digital signature option. It also includes an integrated form filling feature for its users.
You can transmit up to 5 fax pages for free with HelloFax's free fax tier. In the free tier, however, you will not be able to receive any faxes. The page allocation does not renew monthly in this plan. However, It does permit electronic signatures and even integrations. You can upgrade to their membership plan, which includes additional features such as fax security.
Strength
Excellent user interface

Digital signatures are supported.

Existing fax numbers are converted.
Weakness
There is no dedicated mobile app.

There are only a few non-US fax numbers available.
5) PamFax
PamFax is free to join, and new users receive three free fax pages when they sign up. PamFax is compatible with the web, Windows, macOS, iPhone, iPad, and Android devices.
Choose from the PamFax, the Professional plan ($7.43 per month and 7 cents per page), or the Basic plan ($4.93 per month and 11 cents per page) once you've used up your three free fax pages.
The Basic and Professional plans both come with a personal fax number and the ability to send numerous documents in one fax. This fax service also has Skype integration. Dropbox, OneDrive, Google Drive, and Box are all supported on the Professional plan.
Strength
Plans at a reasonable cost.

Skype integration is available.
Weakness
There are a limited number of free pages available.

The free version has a limited set of features.
6) eFax Free
eFax Free is one of the few services that provide users with a free incoming fax option. You can receive up to 10 faxes each month via email without paying anything. Faxed documents are saved in a message center for 30 days and viewed using the eFax mobile app.
You'll be provided a random fax number to give to whoever is sending you documents when you sign up. Although the eFax website is simple to use, it resembles an email client from a decade ago.
Strength
It's convenient and straightforward to use.

It is reliable.
Weakness
Unable to see the bill.

The user interface is chaotic.
There are great options if you need to send a free fax online; hopefully, these apps mentioned above will help you … and they are free!.